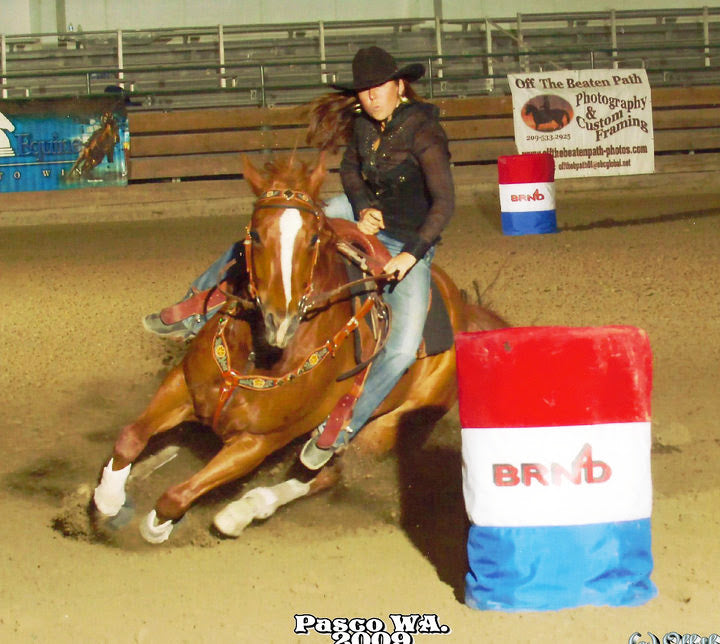 I've been struggling with saddle fit on one of my colts, and decided to rummage thru my tack room for an old pad I knew I had. I found the pad amidst a stack of others, and when I pulled it out, I noticed the patch on the back corner and was hit with a truck load of memories I wasn't expecting.
    You see, this pad is 10 years old. I won it on my old horse Bumper, who is now 17 years old, retired due to injury, and collecting dust with another lifer out in our field. It occurred to me that this grungy old pad was possibly the most important prize I ever won with this horse, and I was instantly transported back in time to when it happened. 
    My family raised Bumper, I put the first ride on him, and tho he was originally destined to be a head horse, within the first week of riding him I knew I had to have him. He went to winning from his first run, and was by far the nicest horse I had ever owned. HIs registered name is I Can Command, and a friend once said his barn name should have been Eye Candy, he was such a looker.
    Bump was the most explosive horse I'd ever ridden, with talent to spare and more try than you could want. I could send him thru the gate at 100 miles an hour and he would inhale the first barrel. Every. Single. Time.
    It was my first experience with this kind of power and I was hooked. 
    Unfortunately, what he didn't have to spare was brains. He put a whole new spin on the word fractious, and as soon as he learned he could run my days with him were spent constantly talking him off the cliff and doing everything BUT working the barrels. I spent more hours just walking this horse than you can imagine. Because of this fragility, he was always very inconsistent. You might win. Or you might run up the middle of the second barrel. Or maybe the third today. Who knows. 
    Looking back, there's things I would have done different with him. I'd like to think I'm a better trainer than I was back then too. Who knows. I ran the big guy for 10 years, and it's safe to say he taught me more than all the rest of the horses I've ever had combined.
    Back to the pad.    
    We ran four consecutive, low 17 second runs at this finals Bumper's derby year to win this pad. I bought my WPRA permit the next week, and was certain we were going to do big things. That never really happened, but I still remember that huge sense of accomplishment I felt on that day, after laying down FOUR consecutive, super-fast, clean runs on this horse.
    All the checks he won me have been spent. He's an arthritic shell of the young, fire-breathing dragon he was a decade ago and eventually he'll be gone. So today I went out into the field where he was munching on his breakfast, and I gave my old friend a belly scratch on his favorite spot that only I know about and I told him thank you. Thank you for all the lessons. Thank you for teaching me patience, perseverance and what a great horse feels like. 
    Then I went back to the barn and threw that old pad on my 2020 hopeful, and told him he has some big shoes to fill. Turns out my favorite horse isn't the one who won the most, but the one who challenged me at every turn and left me better than he found me.
    And I'm thankful for this old pad for bringing all these memories back.
                                                        ~Jess